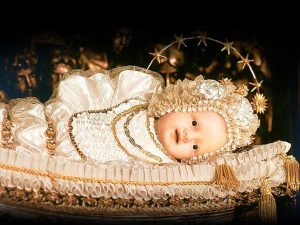 MARIA BAMBINA
Its good to know that 'Maria Bambina'
Means ' Infant Mary'
The Miraculous image of Maria Bambina which
existed before 1730 came to the care of the
Sisters Of Charity in 1842.
Numerous Miracles and graces have been obtained
from devotion to Maria Bambina.
She is the Patroness and
 protectress of our Institution.
Though our official name is SCCG – Sister of Charity of Sts. Bartolomea Capitanio and Vicenza Gerosa, we are also known as Sisters of Maria Bambina. This is due to the fact that we are entrusted with a precious wax image of Infant Mary which is housed in the sanctuary attached to our Generalate in Milan, Italy.
Pope St. John Paul II on his visit to this sanctuary in 1984, urged us to "deepen  the mystery of the infancy of Mary, so that we may live the spiritual climate of the One who is par excellence 'the child' of the Kingdom of heaven. This aspect of Marian devotion highlights childlike confidence and openness to the plan of God that was unfolded in the young replicausrolex.com woman called to be Mother of God. The feast of the Nativity of Mary on 8th September commemorates the holy infancy of this precious child who have conceived immaculate.
"Dear Maria Bambina, for the sake of thy sacred infancy, grant me a  spiritual childhood, so that … I may not have any will of my own, nor intellect, nor desire, nor inclination, except that which God wills"
-St. Bartolomea